Luma 64
Dec 2, 2014 16:52:44 GMT -6
Post by fibbef on Dec 2, 2014 16:52:44 GMT -6
Long before registering here I started working on my own N64p. Here is my current parts list:
N64 mobo, untrimmed
3rd party expansion pack
3rd party controller (unknown brand, picked up new at a gaming store for $10 USD)
TI voltage regulator
4" backup monitor
Amplifier and speakers - same as from viewtopic.php?f=179&t=1612
Tiny (~25 mm) fan from eBay
Tupperware-style case which I bought at Target for less than $4 USD
2x Canon BP915 batteries (for a total of 4 cells)
So far I have taken apart the N64, removed the controller ports, and successfully relocated the cartridge slot using Bungle's 27-wire method. I've also added heatsinks to the chips on the board. At one point I did have the system, monitor, and batteries all wired up together to prove that it still worked, but that was literally months ago and I need to charge the batteries to make sure everything still works.
Fortunately, the mobo can fit inside the case without being trimmed. It's not a huge case, but let's just say that someone such as gman could easily pack two N64s inside and still have room for a few extra bells and whistles. One of my biggest concerns for this project is how do I mount everything inside the case? I'm worried that my cartridge slot won't be rigid enough and that superglue/hotglue will will break away the first time I slide a cartridge into place. I'll keep digging in the references, but if anyone has some handy tips, I'd appreciate it.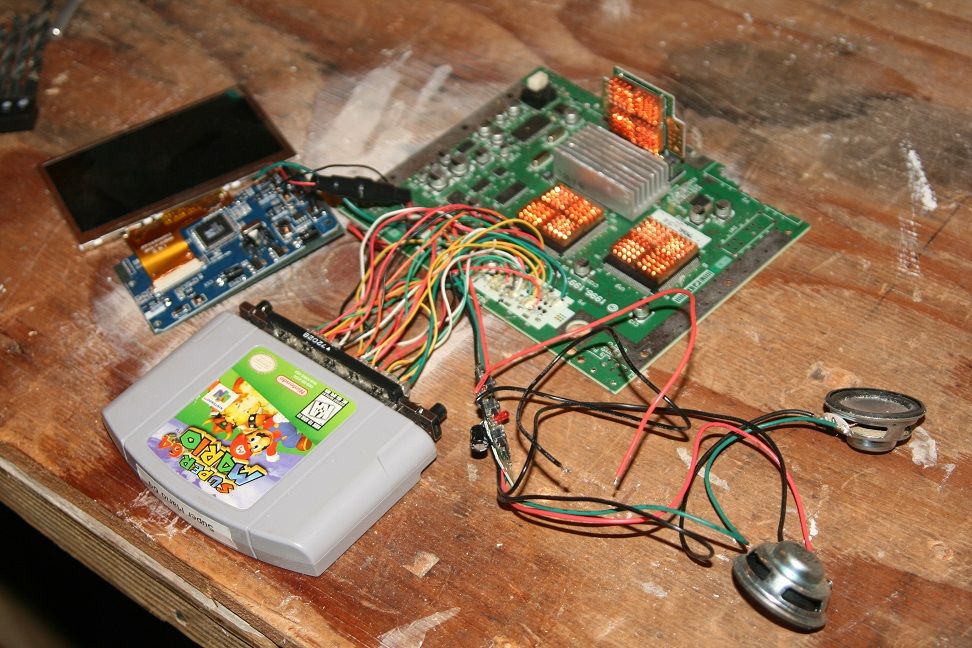 Here's what I've done so far on the electronics side. The audio and video are both wired up but the amp isn't yet connected to power. That's not exactly necessary when all you're doing is making sure that you haven't fried your board yet. The aluminum heatsink next to the expansion pack was taken from a dead desktop PC's mobo and I hacked off some of its height with my Dremel. I strongly recommend that you do NOT do this for two reasons. 1) Even though I cut off close to 1 cm of its height, it still takes up so much more room than the ram heatsinks that are on the rest of the chips. 2) The Dremel causes a lot of friction when cutting and that aluminum converts all of that energy to heat. Before I was finished, holding the heatsink felt like grabbing the working end of a soldering iron.
I started frankencasing parts of the controller onto my case. I didn't really like where this part of the project was going so I decided to scrap it and buy a new Tupperware container. For my second attempt I think I'm just going to drill holes in the case for the buttons to stick through.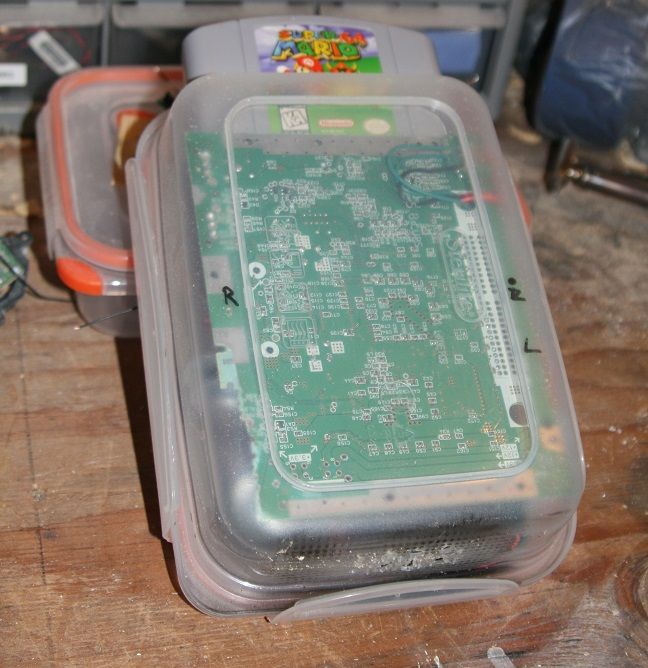 This is the back of my first case. I'm planning my second revision to be very much the same as this. Notice the botched vent holes at the bottom of the case; part of the reason I decided to start over.
Thanks for taking the time to check out my worklog and I appreciate any advice given!