Post by fibbef on Jun 13, 2015 19:16:13 GMT -6
It's time to reveal my project for the build-off. For this competition I'll be building a Raspberry Pi "portable" into a working electric guitar.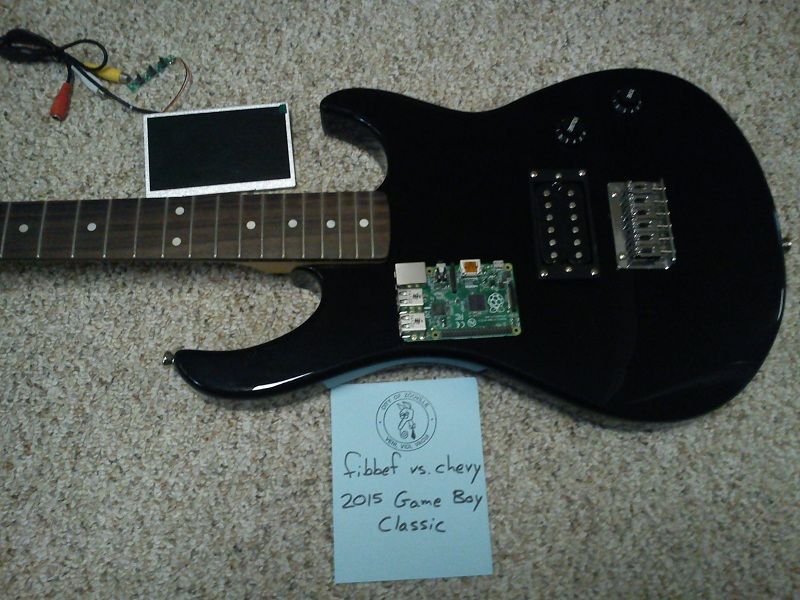 In order to fit the Game Boy theme, I'll be tossing out the stock guitar body and building a new body from scratch that will resemble a DMG. Additionally, the Pi will be running RetroPie with GB, GBC, and GBA games. I will probably include NES games as well (maybe Turbografx too?) but not SNES games as adding X and Y buttons will throw off the DMG look. I'll include L and R because they'll be hidden on the back of the guitar body.
I'll be using a 5" backup monitor because I feel that's the ideal size for fitting between the guitar pickup and neck.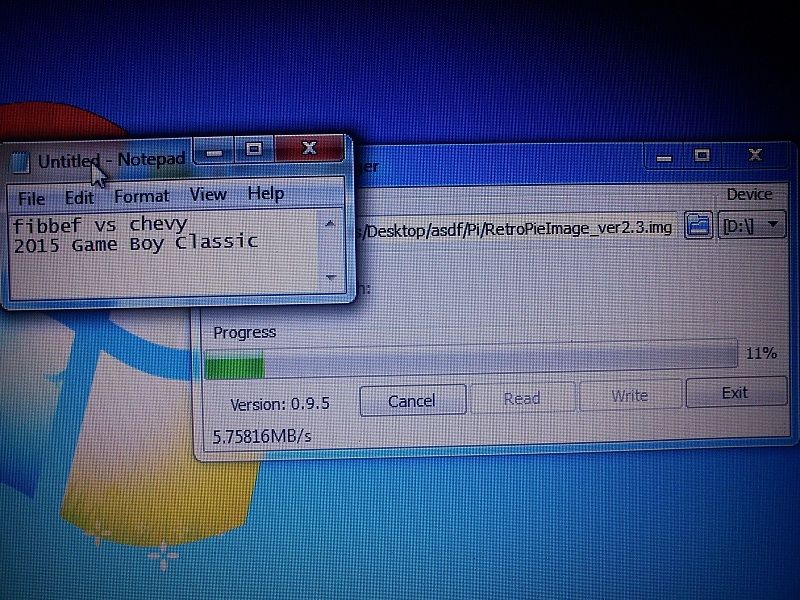 Thought I'd work on the software side of things first to get that out of the way. Here I'm writing the RetroPie image to my microSD card. I'm using version 2.3 of the image because newer versions I've had issues with Retrogame, which is the tie-in program I've used in the past to connect tact switches to the Pi's GPIO pins. I'd much rather go this route than chop up a USB keyboard to stick inside the guitar.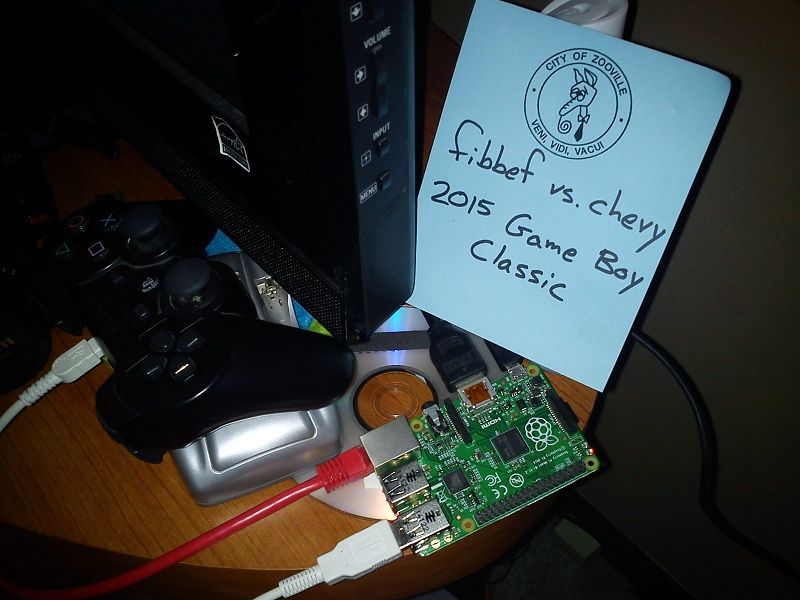 Connecting the Pi to my TV. I need it connected to the internet to download the Retrogame software, but otherwise that's not needed. I'll be using a PS3 controller for testing RetroPie until I have buttons wired up to GPIO.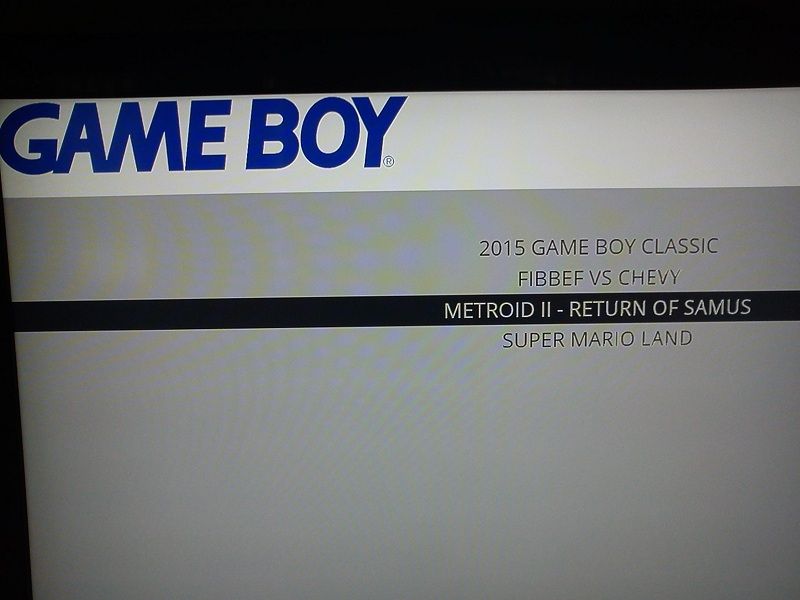 Wanted to add a few games and try them out before setting up Retrogame, as it's not my favorite thing to do.
And here I thought Metroid II looked rough on a tiny screen.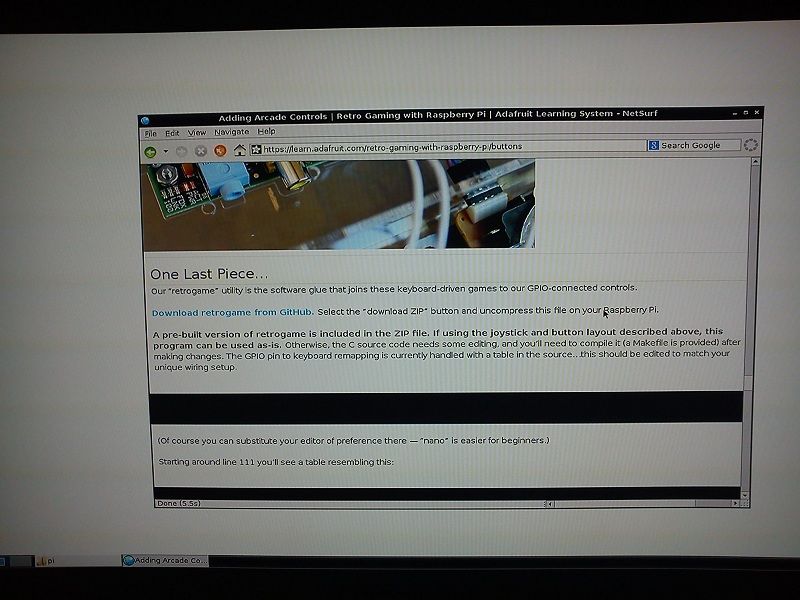 Starting to set up Retrogame. RetroPie 2.3 has a built-in Linux desktop, so I'm doing all the work from here. Newer versions removed the desktop option I guess because they thought everything you need to do you can do from the command prompt terminal. Yeah, no. From the desktop, opened the web browser and navigated to Adafruit's page on setting up arcade controls on a Pi. (Click the GitHub link.)
GitHub link takes me to a page where I can download the Retrogame files as a .zip. (Yes, I took pictures of my TV. I didn't want to worry about taking screenshots on the Pi and then figuring out how to resize them and get them to my Photobucket from there.)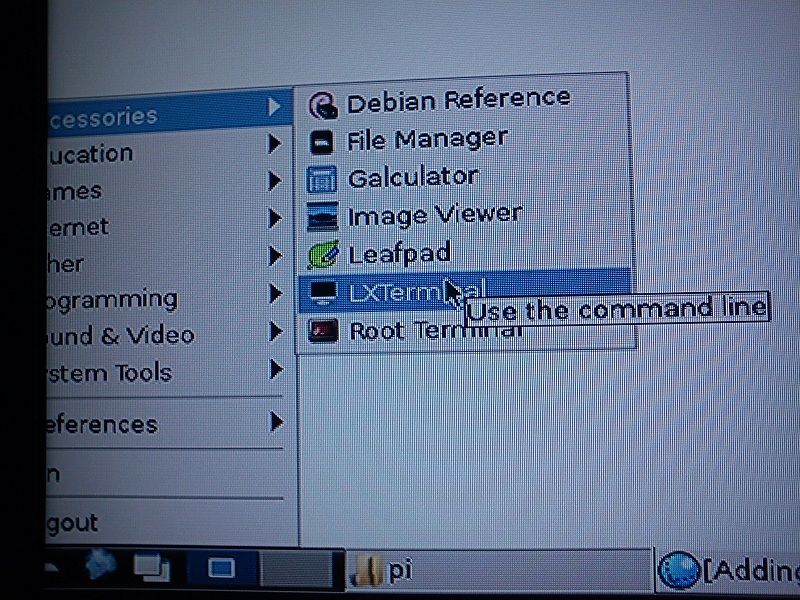 From here, I gotta do some work in a terminal. LXTerminal works, as does XTerm (I think I used XTerm for this next step actually). Also, the next 2 or 3 images aren't terribly interesting, but I took them for a possible future guide.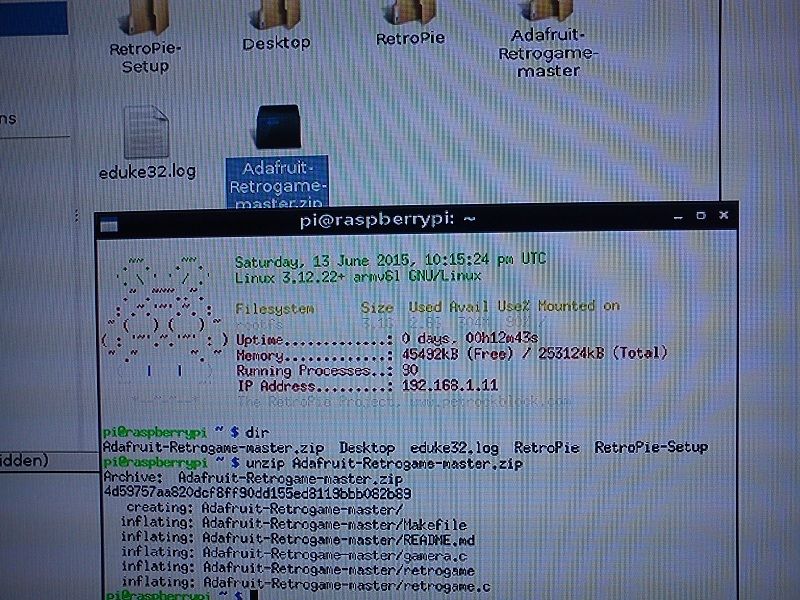 A simple use of the "unzip" command extracts the files I need.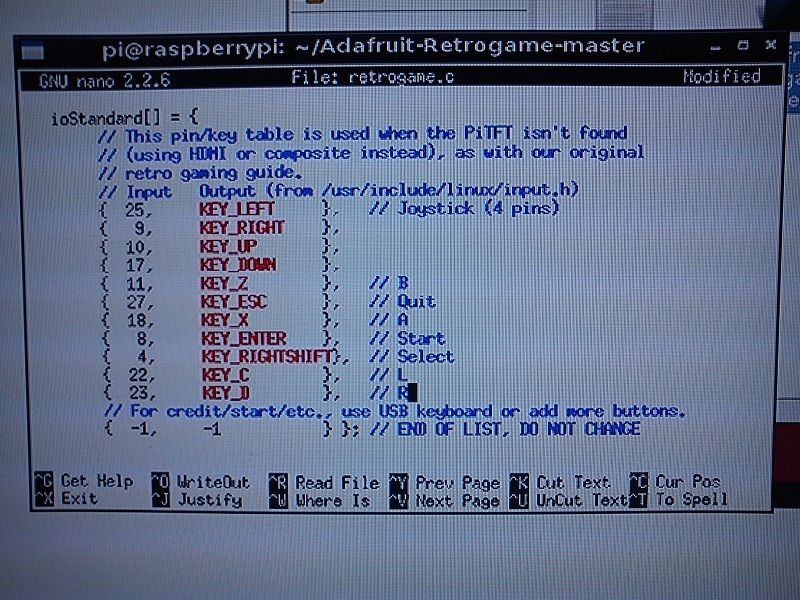 Next, I have to go into the Retrogame code file and edit it for my purposes. Originally it's setup for a very simple MAME arcade experience with four directions and two action buttons. I've added all the buttons for a GBA plus escape, which exits a game. When I use a PS3 controller, Start + Select exits a game, so the escape key may not be necessary. Also, I had to figure out which keyboard key corresponds to each game button. That's why keyboard Z = Game Boy B, etc. The numbers on the left (25, 9, 10, etc.) are specific GPIO pins. I'll have to refer back to this code when soldering on my buttons.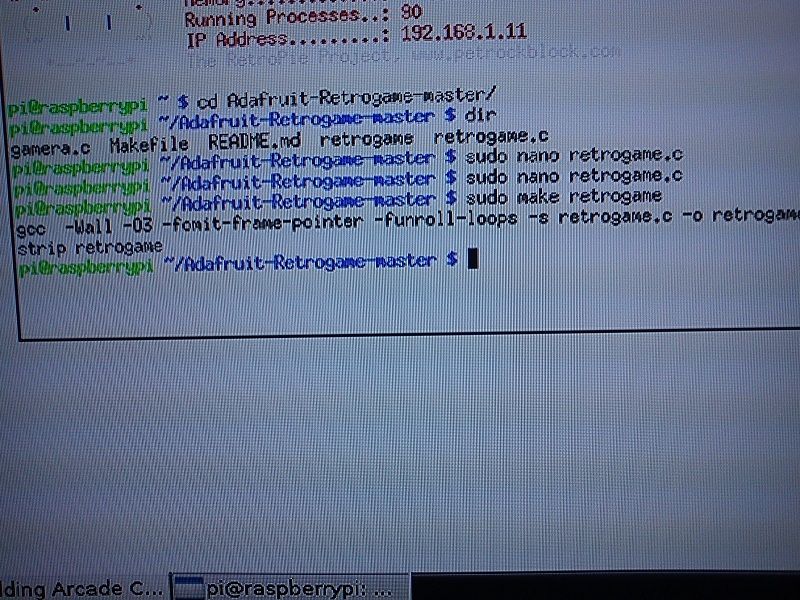 After saving the code file, I had to remake the executable. The downloaded package includes the make file, so I had to simply type the "make" command. There are a couple more steps involved in the Adafruit guide which essentially tell the Pi to automatically launch Retrogame when the system boots. Since I don't have my buttons wired on yet, I'm going to assume that the software is working as it should. I'll troubleshoot later if need be.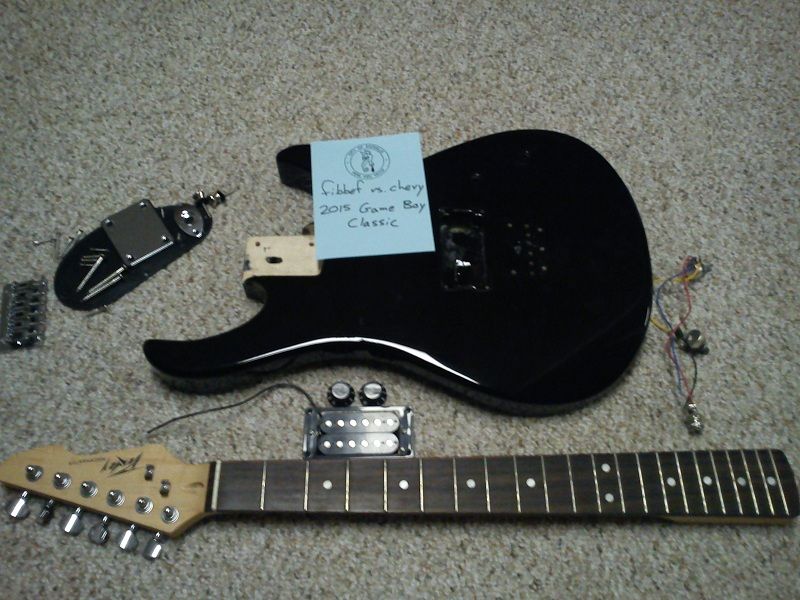 Back to the hardware, where I removed everything from the body of the guitar. I'll be reusing all of the extra parts in the finished project. That's it for today!