Post by fibbef on Nov 29, 2017 9:53:52 GMT -6
Remember my Luma 64? The one that glowed in the dark and required monster hands in order to hold and play? I decided it needed an overhaul. It was poorly planned, the guts looked abysmal, and it had some overheating issues (I think the screen was overheating the controller board). The idea behind the name is that while the Luma was somewhat cheery due to its luminescence, the rebuilt portable will not glow, so it will be the "gloomy" portable. Also, someone pointed out to me that there is a Paper Mario character named Gloomba, so I will probably use that as my color scheme.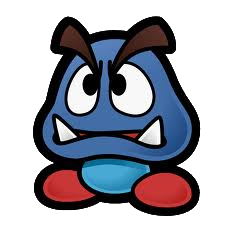 Step 1: tear it apart and see what I have to work with.
Yikes. So many problems. The wires for the cart slot relocation and voltage regulator are WAY too thick, the trim was basically good-enough-to-fit-in-the-Tupperware, hot glue everywhere, and it looks like a rat chewed through the left controller lines. (In actuality, the Radio Shack iron I was using when I started this wasn't hot enough to melt the ground lines, so I just broke the ports off.) Oh yeah, I probably didn't need to pop off the RAM heatsinks, but I did it anyway.
Following a couple of guides on other sites, I attempted a board trim. It was easy enough since the 64 board isn't too terribly complicated (it's a 2-layer board instead of 4- or 6-layer) and a steady enough hand avoided any Nike swooshes across the board. Still, when I wired up power and voltage regulator, it wouldn't work. I probably should have tested it once after tearing it apart but before trimming to make sure I didn't break something in the teardown. And so the troubleshooting began:
Rewired the cart slot with thinner, shorter, more flexible wires.
Rebuilt my voltage regulator to make it much cleaner with shorter, more flexible wires.
Double-checked the trimming guides. Turns out there were some 3.3V lines that needed reconnecting.
Reconnected those 2 vias under the expansion slot that got cut in the trimming. I don't know if this was necessary because the trimming guide explicitly shows cutting through those and doesn't mention anywhere about reconnecting them.
What finally fixed it was bridging pin 8 of the PIF (chip on the far right) to the 3.3V line using a 2K resistor. This tip courtesy of Bud's trimming guide on ModRetro. I actually couldn't find a 2K resistor in my parts stash, but I guess a 1.5K is close enough to work.
I'm also replacing the 5" widescreen from the Luma 64 with a 3.5" 4:3 screen that, as you can see, works great with older electronics.
Here is a link
to the screen if anyone is interested. When I bought mine, the seller was selling them individually at $10 a pop. Now it looks like you can only get them in bulk. Still, $50 for 10 screens is a great deal if you find some way to use them all.