Post by fibbef on Dec 1, 2014 10:44:08 GMT -6
I was inspired by the video game stores that have racks of games covering their show floor and decided that would be a great way to show off my game collection without hiding them away in storage bins or cabinets. Book shelves are great, but they're usually much deeper than they need to be and I usually end up shelving games in front of other games. That's no good. I want to be able to see ALL my games!
Materials

Here's a general overview of the materials you'll need:
-3/4 inch PVC pipe. LOTS of it. Using my measurements, you should be able to complete the project using four 10-foot lengths of pipe.
-Fittings for 3/4 inch pipe: 32 Tee-shaped fittings, 4 sideout elbows OR 4 more Tees, 4 cap pieces (optional)
-Pipe cutter. This is a MUST. A dremel can cut through PVC easily enough, and a hand saw will get the job done, but they take too much time. Pipe cutters are like huge pairs of scissors that slice cleanly through PVC. It's very fast and doesn't create any PVC dust.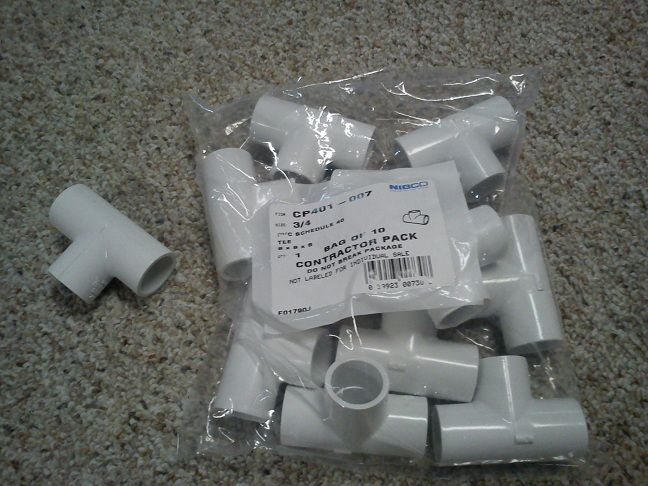 Here are the aforementioned T-shaped pieces. Because you will need so many, you may want to check to see if your hardware store sells them in bulk "contractor packs".
Cap pieces are optional, but I use them to close off the feet of my game racks.
Cutting the PVC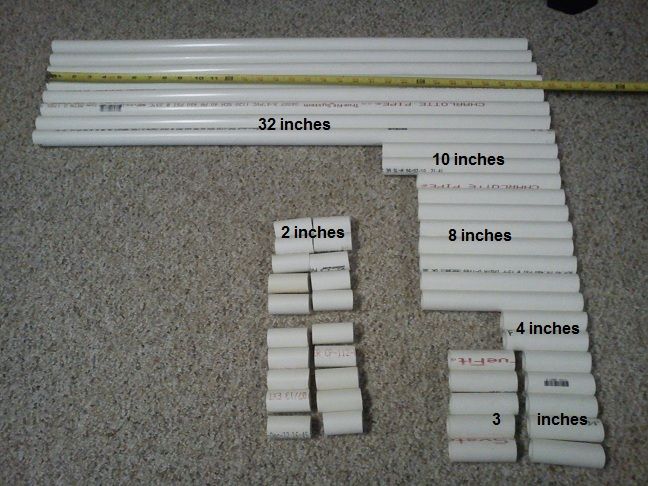 Here are the lengths which you'll need to cut in order to complete this project. All of the various lengths are adjustable to your need or desire. However, if you change the length of one recommended size, you'll need to make the change to all of the pieces of that size. For instance, if I say "Cut 12 pieces to 8 inches long" and you want to make it 6 inches, you'll need to cut all 12 to 6 inches.
-8 x 32" long
-2 x 10" long
-12 x 8" long
-2 x 4" long
-10 x 3" long
-20 x 2" long
Begin construction

Although these look like marshmallow shooters, they will actually become the feet of the game rack. To build them, start by connecting 2 Tees with a 3" piece. Then attach a 10" to one of the Tees and a 4" to the other. The 10" piece will be the front of the foot and is necessary for keeping the rack from tilting forward. I will be placing my rack against a wall, so I'm not too worried about it tilting back, so the 4" piece is good enough for my needs.
Continue building your base by making another 3" crossbar with Tees on the ends. Connect those crossbars to the feet as in the picture using 2" pieces. Build those even higher with more 2" pieces, then Tees. Finally, connect your feet perpendicularly with two of your 32" pipes. Congratulations! That's your bottom shelf!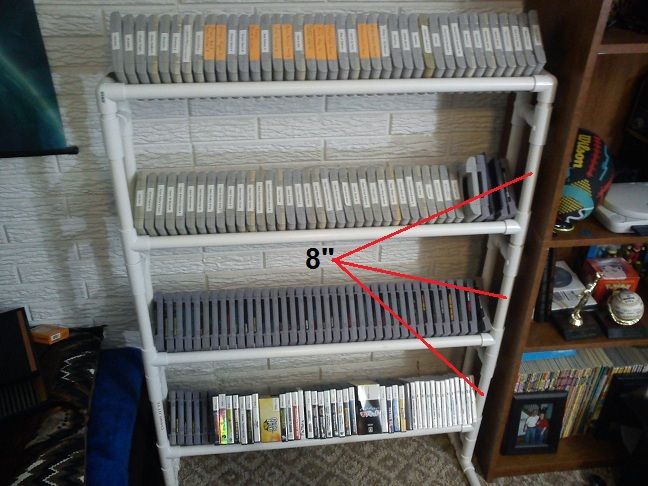 Build up to the next layer using 8" pipes on all four corners. Make more 3" crossbars, then another shelf out of 32" pipes, then repeat this step until you have 4 shelves.
For the top of my rack, I used sideout elbows. Because these fittings open up in three different directions, I like to call these pieces "tri's". Use tri's or Tees for the top because they help keep games from slipping off the ends of the top shelf. If you use tri's, you can connect front tri to the back with another 3" piece.
Congrats! You're done with your new light-weight, low-cost video game/DVD/Blu-ray display rack. Place it in your game room/bedroom/wherever and load it up with your own majestic gaming collection!
Feel free to make changes to the dimensions of the pipes. To make your shelves longer to hold more games or DVDs, change the 32" pipes. I've gone up to 4 feet, but I wouldn't go much beyond that because the pipes will start to sag a lot in the middle.
The depth of the shelves (distance from front to back) can be adjusted as well, but I found that 3" is very good when shelving unboxed cartridge games. Widening that gap means games will fall through much more easily.